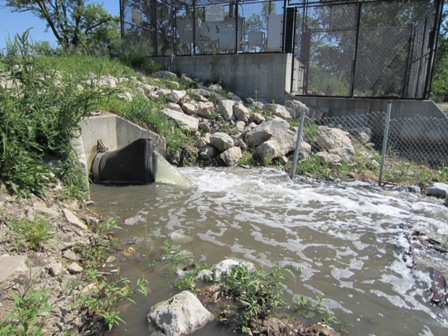 Water flowing into the lake from the recharge pump
The Recharge System Goes Live!
On Wednesday, May 16, 2012, at approximately 10:30 AM, we achieved a significant milestone in lake restoration history. At that time, the lake recharge system was turned on for the first time and water began flowing into the lake from a well located near the Missouri river. This project has been several years in the making. In July of 2008, after 2 years of intensive planning and lobbying, the State of Iowa appropriated approximately $500,000 for the construction of a recharge well for Carter Lake. With funding in place, the cities of Carter Lake and Omaha worked together to plan, implement and build the recharge system over the following 4 years. The system finally came online on May 16th and is now pouring clean ground water into the lake at a rate of 2500 gallons per minute. At that rate, it is expected to take approximately 30 days to raise the level of the lake 6 inches, allowing for normal evaporation.With the new recharge system in place – and with the existing flood control pumps, the levels of the lake will be continuously monitored and the pumps used to help maintain the lake at an optimal level.Our thanks go out to everyone who has worked on the project over the last 6 years. There have been many individuals, organizations and governmental entities helping to make this system a reality!! We sincerely appreciate all your efforts. See July 17, 2008 Omaha World Herald Article Below
More information about the lake recharge proposal is below the News Article.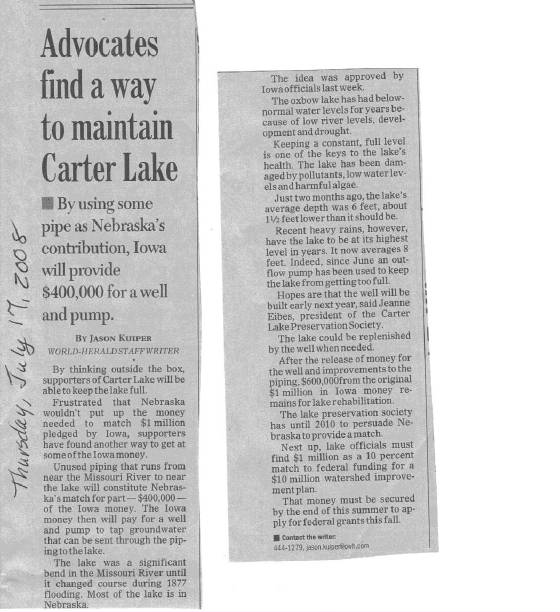 Average Monthly Precipitation and Evaporation at Carter Lake

Rainfall

Evaporation

Net gain/loss

January

0.77

0.89

-0.12

February

0.91

1.04

-0.13

March

1.91

1.56

0.35

April

2.94

2.08

0.86

May

4.33

5.58

-1.25

June

4.08

6.26

-2.18

July

3.62

6.47

-2.85

August

4.1

5.58

-1.48

September

3.5

4.1

-0.6

October

2.09

3.35

-1.26

November

1.32

1.73

-0.41

December

0.84

1.12

-0.28

30.4

39.76

-9.35

Source: Section 22 Study Planning Assistance to States. Evaluation of Lake Levels for Carter Lake, Iowa Hydrology Analysis, August 1985
8,770,500 Gallons are needed to raise the lake 1 inch. The lake covers a surface area of 323 acres at full pool.
How much shoreline in Carter Lake is Public Access?

Based on linear feet of shoreline at full pool
Public
%
Private
%
TOTALS
%
Carter Lake, Iowa
Golf Course and City Parks
8,691
16%
Boys and Girls Club of Omaha
1,484
3%
Coronado Keys
8,860
16%
Shoal Area
4,254
8%
All other Shoreline
11,952
21%
Total Iowa Shoreline
10,175
18%
25,066
45%
35,241
63%
Omaha, Nebraska
20,786
37%
-
20,786
37%
Total Shoreline
30,961
55%
25,066
45%
56,027
100%




Carter Lake Preservation Society
107 Shoal Drive
Carter Lake, Iowa 51510
Phone: (712) 347-6455