Another Successful Clean-up -- 2013
Clean-up Around the South end of the Lake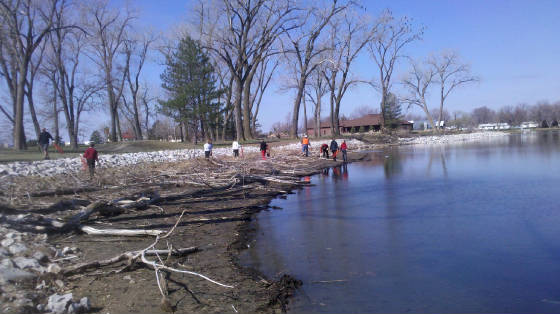 Volunteers Walk Along the Shoreline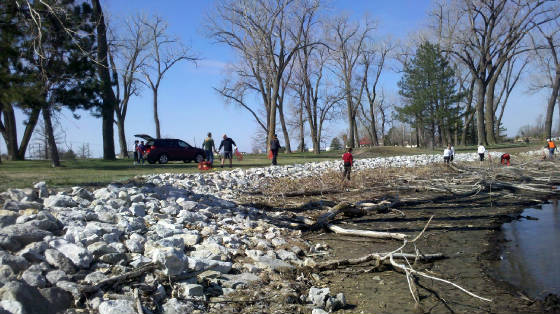 Many thanks to everyone who helped with the 2013 Annual Carter Lake Clean-up! Nearly 150 people arrived at Mabrey Park on Saturday, April 13th to assist with the clean-up. The group was divided into 6 teams who were assigned different areas of the lake to clean. Each volunteer was armed with several trash bags to fill as they walked along the beach areas in their assigned sections. The teams collected plastic, paper, pounds of broken glass, and an odd assortment of other cast-offs for the next 3 hours. By the end of the morning, enough junk to fill a large dumpster had been collected and removed from the lake. Reporters from TV stations 3 (KMTV) and 6 (WOWT) filmed some of the action and interviewed the volunteers.
Special thanks go out to the 60 plus students from Creighton University who participated this year. Creighton's Day of Service coincided with this year's cleanup … and women from several campus organizations chose to spend their time cleaning up Carter Lake. Creighton University has always been well represented at the event – and this year was no exception.
This was the 9th Lake Clean up sponsored by the Carter Lake Preservation Society (CLPS) – and the improvements to the lake over the years have been remarkable! The amount of junk in the lake has been substantially reduced; the quality of the water is improved; and the shoreline has been renovated and stabilized. With your help, CLPS looks forward to continuing the tradition of service and preservation to the Carter Lake watershed for many years to come.
Thank you again for your time and support!
Special Forces Team Clears Island of Trash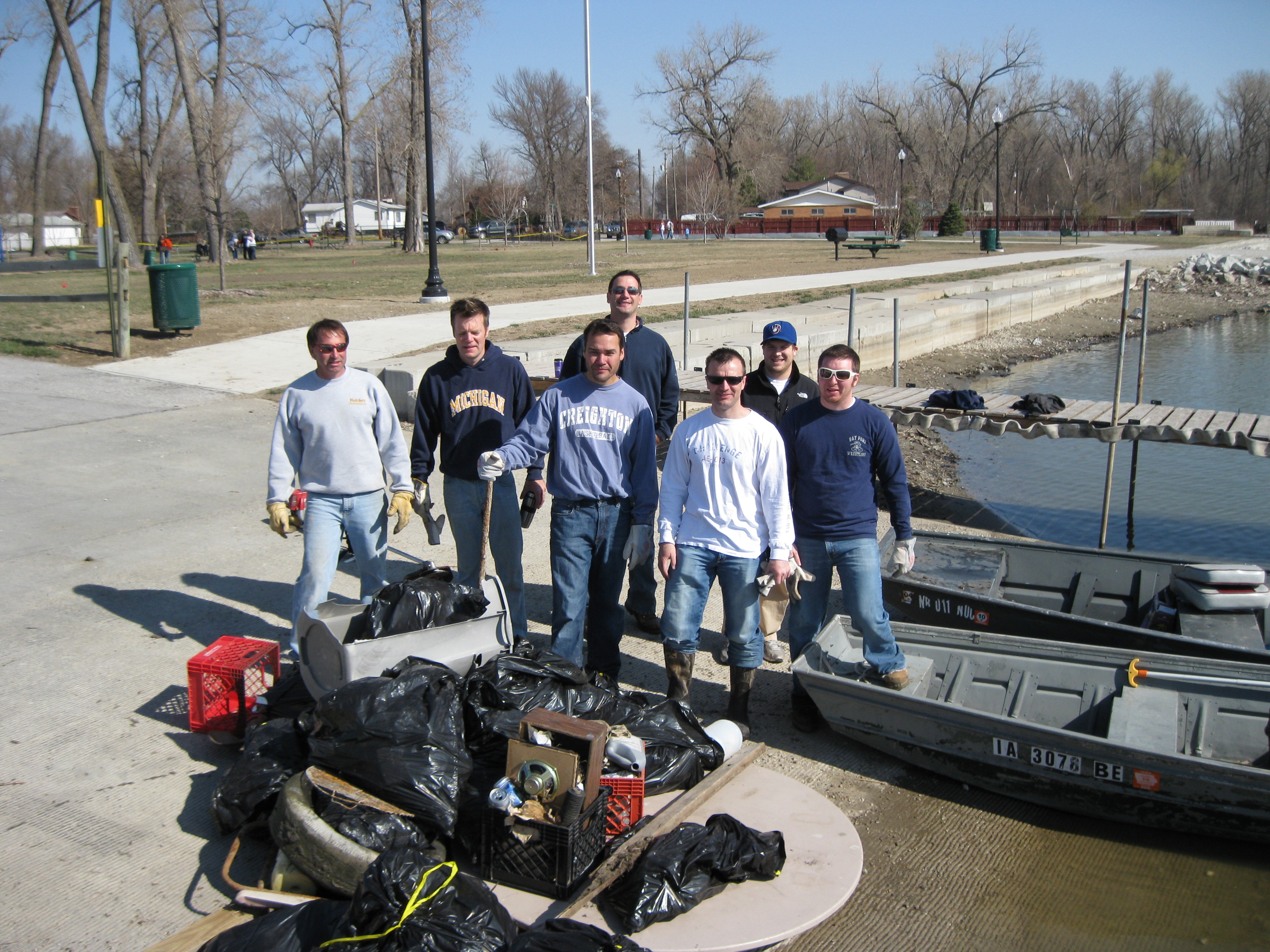 Saturday, April 11, 2009
Click here for a photo gallery of the 2008 Clean Up, be patient, it is a big file!
Link to Volunteer INFO and a MAP
Cleaning the Lake Continues
After years of neglect, illegal trash dumping and dangerously low water levels, CLPS organized hundreds of volunteers to clean up the beaches and areas surrounding the lake.


Past Lake Clean UP Dates:
April 19, 2008 -- Earth Day
September 17, 2005
April 8, 2006
April 14, 2007
September 15, 2007


Community volunteers have gathered to spend a day hauling trash and junk from the lake and the lake shore. Local television crews and newspapers have covered the event. Many generous businesses contributed food, prizes or sevices for the workers.
Even local VIPs from both Iowa and Nebraska pitched in to help with the effort. By the end of the day, hundreds of tires and tons of glass, metal, wood and various things defying description were removed, recycled or taken away for appropriate disposal. The photos below capture some of the excitement of Lake Clean-Up Day!

September 15, 2007
Kiwanis Park and Pond Clean-up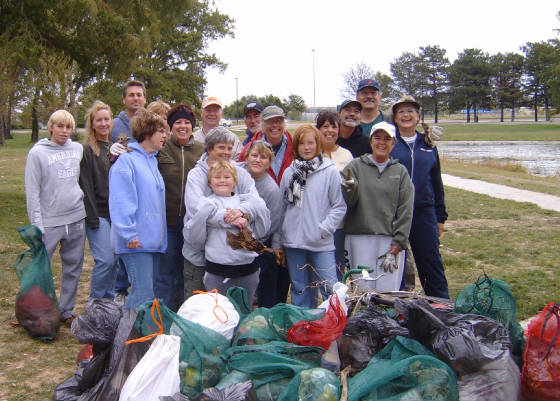 Approximately 25 volunteers collected over 30 bags of trash from Kiwanis Park and Pond
Omaha World Herald Sept 16, 2007 Article

April 14, 2007 Lake Clean-up Day
Channel 6 WOWT Coverage of April 14, 2007 Clean Up
MAPA April 2007 Newsletter Clean UP Article
April 8, 2006 Lake Clean-up Day